Dear Parents/Guardians,
As you have heard, we will be returning to face-to-face learning on February 16th. We look forward to the return of students. It has been a long time since we have been together and teachers and students have shown their resilience over this extended closure. Thank you to all the families for your continued support over the last few weeks. 
This week we are celebrating Carnaval at OLG. Our students will be asked to show their Carnaval spirit by participating in the theme days that have been planned throughout the week. Share your photos to our Twitter account @OLG_YCDSB We will be holding a daily BINGO/Loto and during French class students will be partaking in Carnaval-themed activities.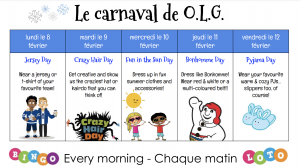 As part of our Black History Month activities, on Friday, our entire school will have the opportunity to listen to a presentation by Black Canadian author & presenter AUBREY CLARKE. 
Families looking for Technical Support during remote online learning are encouraged to visit the YCDSB Call Centre website http://help.ycdsb.ca/vle.
Yours in Catholic Education
F. Grossi
Looking Ahead:
Feb. 8-12

Le Carnaval de OLG

Feb.8

CSC Meeting 7pm

Feb. 12 

Aubrey Clarke, Black History Month Virtual Presentation

Lunar New Year

Feb. 15

Family Day

Feb. 16

School Reopening Date

Feb. 16

Electronic Report Cards Available in Parent Portal (12:00 pm) 

Feb. 17

Ash Wednesday Liturgy